Today I harvested the first of my brussel sprouts in November.  And not the beginning of November, but the 30th!
These plants were planted the second week of June and have been in the ground for over 145 days.  I looked often in September and October but the sprouts remained only about a 1/2″ in size.   Luckily, we have had a long cool fall with little snow and only short bouts of below freezing temperatures.  After huge rains September 15th flooded areas along the front range, especially the Boulder area, little precipitation has fallen.  The average temperature this November was 45 degrees.
As this is my first year growing brussel sprouts I didn't know what to expect, nor when to harvest.  They definitely do well with frosty nights and warmer days.  We had some snow in mid-November and the temp got down to 18 degrees.  After that, the plants leaves wilted a bit but still seem okay after the warm weather we've had.  Although I winterized my sprinkler in early October, I have hand watered the plants to keep them happy.   I have only been able to harvest at most a third of each plant, so will update this if I manage another round.  To help in next years harvest I've added some tips.  It may be that a warmer fall will mean a longer wait for harvest.  Today I finally cut the growing tips off the plants so we shall see whether the rest of the sprouts mature before winter sets in for good.
Tips for Sowing
Plan to plant your brussels in late spring, and begin your seeds indoors 4-6 weeks before planting.  If planted in June, the plant will have time for some growth before fall.  They take a long time to mature up to 100 days and are considered a cool season crop that needs a light frost to prompt the best growth.
Tips for Growing
When grown in an area with a lot of heat, keeping the soil evenly moist is a requirement or the crop may fail.  You should consider mulching the soil to keep in the moisture as well.
Commercial growers remove the 6 – 8 bottom-most leaves as the sprouts begin to appear but it's not necessary.
Tips for Harvest
Fool sprouts into maturing at once by cutting off the growing tip of the plant a three weeks before you want to harvest.
Harvest when sprouts are 1″ wide and before the leaves turn yellow.
If you let the growing tip remain and have begun harvesting, cut the growing tip of the plant to encourage the rest of the sprouts to mature.
Tips for Cooking
Did you know the leaves are edible as well?  For lots of interesting ideas head to BUZZFEED
I've grabbed this recipe from The Bean Town Baker … thank you BT!
Brussels sprouts are roasted with bacon, chickpeas, and mushrooms for a hearty tasty vegetable side dish
ingredients:
3 Tbsp butter, divided
8 oz mushrooms
20 brussels sprouts (~10 oz)
2 cans (15 oz each) chickpeas, drained and rinsed
4 slices cardamom candied bacon, crumbled (or plain bacon, fried, and crumbled)
1/4 cup toasted pecans, chopped
1/2 tsp pepper
1/2 tsp freshly ground nutmeg
freshly grated parmesan for topping
directions:
Heat a large skillet oven medium heat and add 2 Tbsp of butter.
Add mushrooms and saute for about 5 minutes, or until they begin to caramelize, stirring occasionally.
Add brussels with a pinch of salt and the remaining tablespoon of butter, stirring to coat, then cooking for another 5 minutes.
Add in chickpeas, bacon, pecans, pepper and nutmeg, then stir and let sit for 5-6 minutes until chickpeas are warm and the flavors come together.
Serve warm with grated parmesan on top.
————— Another yummy recipe
This recipe is from Food52.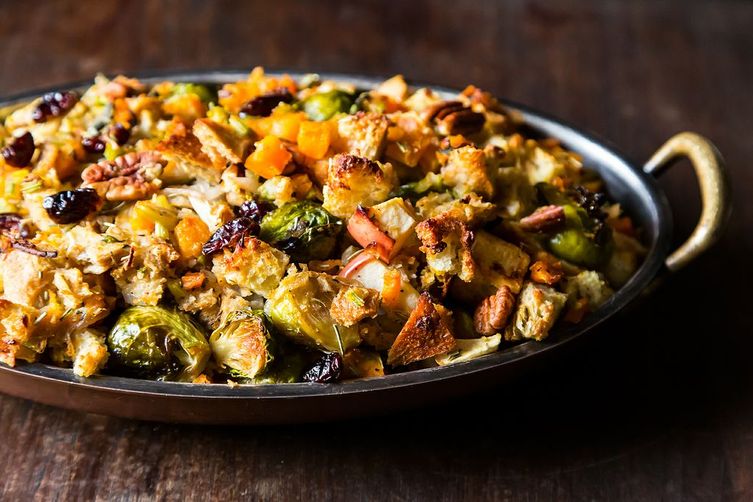 1
Serves 6
1pound butternut squash, cubed
1pound brussels sprouts, halved
1medium gala apple, cut into a 1/2 inch dice
2shallots, thinly sliced
3tablespoons olive oil, divided into 2 tbsp and 1 tbsp
1cup onion, diced
1cup celery, diced
10slices bread of choice: crusty sourdough, dry cornbread, whole grain, or, if you are gluten free, millet bread from Food For Life will work nicely. Prior to preparing the recipe, leave bread out for a day to become slightly dry, then cut into cubes.
1 1/2cup vegetable broth (plus extra as needed)
2teaspoons fresh rosemary, chopped
1teaspoon fresh thyme
1teaspoon chopped fresh sage
1/3cup dried cranberries
1/3cup pecans or walnuts
Sea salt and pepper to taste
Heat oven to 400 degrees. Toss the squash, brussels sprouts, apples, and shallots in 2 tbsp oil and season well with salt and pepper. Roast till vegetables are very tender (I actually like my sprouts a bit singed) and remove from oven. Reduce oven heat to 350.
Heat other tbsp oil in a large pot. Sautee the onion and celery till translucent (about 5-8 min). Add the bread cubes and allow them to get golden brown with the veggies in the oil. Add a dash of salt and pepper.
Add the roasted vegetables, vegetable broth, cranberries, pecans, and seasonings. Stir the mix till the broth has almost entirely absorbed in the toasted bread. Transfer to a baking sheet and bake at 350 for about 20 minutes. Serve hot. And delicious.